Mr. Monkey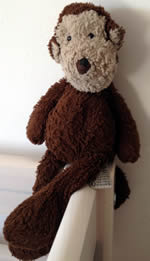 Mr Monkey belongs to Class 2. Each week one of the children takes him home and at the end of the week they have to write about everything they have done with Mr Monkey. Only they can't write about everything because Mr Monkey is magic – yes, magic – and he likes to help them solve their problems. Whether they're being bullied, or are afraid of swimming, or have friends who are being mean to them or whatever else their problem is, Mr Monkey will set out to make things better! There are four Mr Monkey books: Mr Monkey and the Birthday Party, Mr Monkey and the Magic Tricks, Mr Monkey and the Fairy Tea Party and Mr Monkey Plays Football.
Click on the covers to see these books in Amazon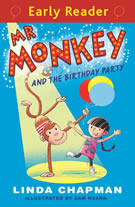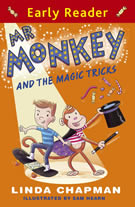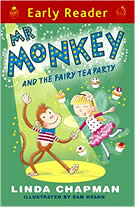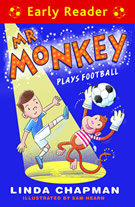 It's been great writing a series for young readers – the Mr Monkey books are aimed at readers who are just starting to read on their own and want short chapters and lots of pictures. Exactly the sort of books my son, Spike used to loved reading when he first started reading. The idea for Mr Monkey first came to me when an editor I was working with said she thought it would be fun to have a series about a class toy – the type of toy that the children take it in turns to take home. I thought that was a brilliant idea – and that it would be even more fun if the toy was magic and could help the children with the problems they had. Choosing to make the class toy a monkey was easy. Spike has a cuddly monkey who's called Mr Monkey and who definitely has a mischievous glint in his eyes. I'm sure he comes to life when we're all asleep. I like to think of there being lots of classroom toys like Mr Monkey, all of whom who are magic, and all who love using their magic to help make the children they go home with happier. Wouldn't that be wonderful?