Angel Wings
Click on the covers to see these books in Amazon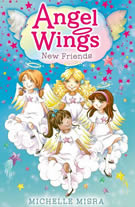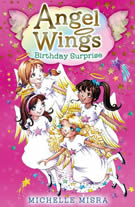 Ella might seem like your everyday girl, but she's anything but! She's a trainee angel at the super sparkly Guardian Angel Academy. But Ella is more impetuous than your average angel, and can't help getting herself into all sorts of trouble. Luckily for Ella, help is on hand in the shape of her friends Poppy, Tilly and Jess - who try their best to keep her out of mischief, and away from their dreaded classmate Primrose!
Join Ella and her friends as they learn how to use their angel magic, get in and out of scrapes and most of all have lots of angel-tastic fun together!
***
I wrote Angel Wings with one of my best friends, Michelle Misra. It is published under her name but we wrote it together. Michelle was my editor when I was writing My Secret Uniform and Unicorn School so it was great to be able to write a new magical school series together. I loved reading boarding school stories like Malory Towers and St Claire's (by Enid Blyton) when I was growing up. It's probably why I have written so many books about boarding school myself – although in my stories there is always magic involved. I always think magic makes stories even MORE fun! If you like school stories and magic then check this series out! There are four books in the series: New Friends, Birthday Surprise, Secrets and Sapphires and Rainbows and Halos.